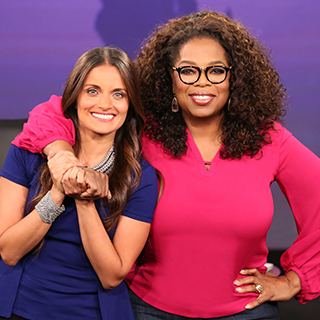 Conscious Parenting. I have never been so moved by "advice" on parenting as from Dr. Shefali Tsabary (Best known as "Dr. Shefali"). I put "advice" in quotes, because her WORK transcends beyond advice. The word advice is inadequate for the ground-breaking and life-changing work she does.
If you are a parent, have BEEN a child, or can't figure out why in the world you can't connect with your children, then this podcast will be a game-changer for your world.  If you are LOST in your adulthood, this podcast is for you.  Have a listen and be forever changed in the way you look at parenting---and yourself.
"We cannot expect THEM to become something that we are not ready to embody ourselves." - Dr. Shefali 
Dr. Shefali Tsabary
Author of the The Conscious Parent, Out of Control and NEWEST BOOK The Awakened Family. Also an International Speaker, and Clinical Psychologist.
EVOLVE CONFERENCE
Hundreds of participants have joined us for this weekend of personal transformation and now it's your turn! Join Dr. Shefali and a line-up of speakers including Michael Beckwith and Tom Shadyac, for our 3rd Annual EVOLVE conference in Long Beach, CA. Hosted this year by the Renaissance Long Beach Hotel, you'll be among hundreds of others who want to learn how to shed years of cultural conditioning and live their absolute best lives. Whether you're a parent, teacher, life coach, or just someone who wants to live more authentically, peacefully, and with joy to spare, join us Sept. 15- 17 in Long Beach for EVOLVE.
$50 off with code 50OFF
If you would like to…
SHED the roles you're currently playing and unfold into your truest, MOST AUTHENTIC self
TRANSFORM your negative thought patterns from the inside out
Connect with your child WITHOUT conflict
Navigate family (and other) disagreements PEACEFULLY
Learn PRACTICAL TOOLS for living your ABSOLUTE BEST LIFE from Dr. Shefali that you'll carry with you long after the weekend is over
Spend a weekend in BEAUTIFUL Long Beach, CA with Dr. Shefali & a line-up of LIFE-CHANGING Speakers you won't find under one roof ANYWHERE ELSE!

…then you're ready for EVOLVE!
The Podcast on Social:
Twitter - http://twitter.com/thesame24hours 
Instagram - http://instagram.com/same24hourspodcast 
Web: www.Same24HoursPodcast.com
Mailing List: https://form.jotform.us/70326661605150