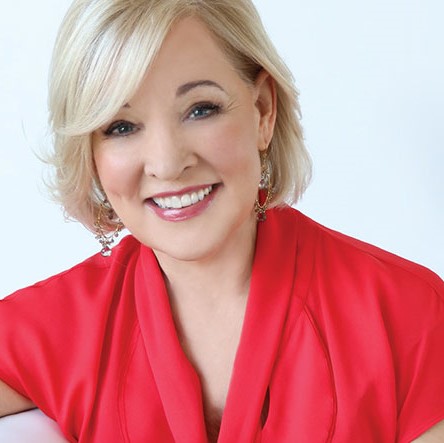 "Our belief system becomes biology."
Christiane Northrup, M.D., is a visionary pioneer and a leading authority in the field of women's health and wellness, which includes the unity of mind, body, emotions, and spirit. Internationally known for her empowering approach to women's health and wellness, Dr. Northrup teaches women how to thrive at every stage of life.
"Getting older is the time to increase value and competency."
A board-certified OB/GYN physician, Dr. Northrup graduated from Dartmouth Medical School and completed her residency at Tufts New England Medical Center in Boston. She was also an assistant clinical professor of OB/GYN at Maine Medical Center for 20 years.
Dr. Northrup knows that the key to vibrant health on all levels is within us—our inner wisdom. She says, "When we find the connection between our thoughts, beliefs, physical health, and life circumstances, we find that we are in the driver's seat of our lives and can make profound changes. Nothing is more exhilarating or empowering."
Dr. Northrup's work has been featured on Super Soul Sunday on OWN, The Oprah Winfrey Show, the Today Show, NBC Nightly News, The View, Rachael Ray, Good Morning America, 20/20, and The Dr. Oz Show.  Women clearly trust Dr. Northrup's approach. In 2013, Reader's Digest named her one of "The 100 Most Trusted People in America." And, in 2016, she was named one of Oprah Winfrey's Super Soul 100, a group of leaders who are using their voices and talent to awaken humanity.
Dr. Northrup has spent her life as an advocate for women's health and wellness, first as a practicing OB/GYN physician for 25 years and now as an internationally respected writer and speaker. Her books have been translated into 24 languages.
A multiple New York Times best-selling author, Dr. Northup's most recent book, Dodging Energy Vampires: An Empath's Guide To Evading Relationships That Drain You And Restoring Your Health And Power (Hay House, April 2018) was an immediate success. In it Dr. Northrup sheds light on the real reason so many people suffer from seemingly inexplicable health conditions. Based on her professional and person experiences, Dr. Northrup provides strategies for removing narcissists and other cluster b-types from your life, and how you can recover your health after a relationship with an energy vampire.
Dr. Northrup put her own personal truth on paper in 1994, with the first edition of Women's Bodies, Women's Wisdom (Bantam, 1994). This groundbreaking classic quickly became a New York Times bestseller, and has been the veritable bible of women's health for nearly two decades. With its raw facts and intriguing case histories, Women's Bodies, Women's Wisdom explains exactly how to "create physical and emotional health and healing."
Her second book, The Wisdom of Menopause (Bantam, 2001, 2006, 2012), has been embraced by women everywhere, including Oprah Winfrey, who sought Dr. Northrup's wisdom when she turned 50 and faced "The Big M." In this New York Times bestseller, Dr. Northrup once again challenged convention with inspiring insights—the "change" is not a collection of symptoms to be fixed, but a mind/body revolution, which brings tremendous opportunity for happiness.
Mother-Daughter Wisdom, Dr. Northrup's third book (Bantam, 2005), was voted Amazon's #1 book of the year in both parenting and mind/body health, and was also nominated for a Quill Award.
In The Secret Pleasures of Menopause (Hay House, 2008) and The Secret Pleasures of Menopause Playbook (Hay House, 2009), Dr. Northrup outlines the crucial link between health and pleasure.
Beautiful Girl, (Hay House, 2013) Dr. Northrup's children's book, brings her positive message to the youngest of girls.
In Goddesses Never Age: The Secret Prescription for Radiance, Vitality and Wellbeing (Hay House, February 2015), which quickly became a New York Times bestseller, Dr. Northrup inspires women (and men) with an entirely different mindset about what it means to grow older.
In her book, Making Life Easy: A Simple Guide to A Divinely Inspired Life (Hay House, 2016) Dr. Northrup shares the essential truth that has guided her since medical school, and advises her readers how to make their lives truly easy.
Dr. Northrup has also hosted eight highly successful public-television specials, beginning in 1998. Her latest was based on her book, Goddesses Never Age, and first aired nationwide in February 2015.
Dr. Northrup also founded Amata Life, a company that manufactures and distributes a product line featuring the Pueraria mirifica plant, a traditional medicine used by Thai women for 700 years. These health and beauty products help alleviate the symptoms of menopause, so women can truly thrive in the wisdom of this uniquely female life stage.
As a business owner, physician, former surgeon, mother, writer, and speaker, Dr. Northrup acknowledges our individual and collective capacity for growth, freedom, joy, and balance. When she's not traveling and teaching, Dr. Northrup loves devoting her leisure time to dancing Argentine Tango, playing the harp, going to the movies, staying fit, getting together with her daughters and friends, boating, and reading.
Follow Dr. Northrup
Dr. Northrup stays in touch with her large and growing tribe worldwide through her Internet radio show Flourish!, Facebook, Twitter, her biweekly e-Newsletter, and her website www.drnorthrup.com.
=======================  
Follow Meredith Atwood & The Podcast on Social:
Web: MeredithAtwood.com
Instagram: @Meredith.Atwood
====================== 
Buy Meredith's Books:
The Year of No Nonsense
https://amzn.to/3su5qWp
Triathlon for the Every Woman:
https://amzn.to/3nOkjiH
======================= 
Want to Connect? 
Email: same24hourspodcast@gmail.com
======================= 
Credits:
Host & Production: Meredith Atwood
Copyright 2017-2020, 2021 All Rights Reserved, Meredith Atwood, LLC