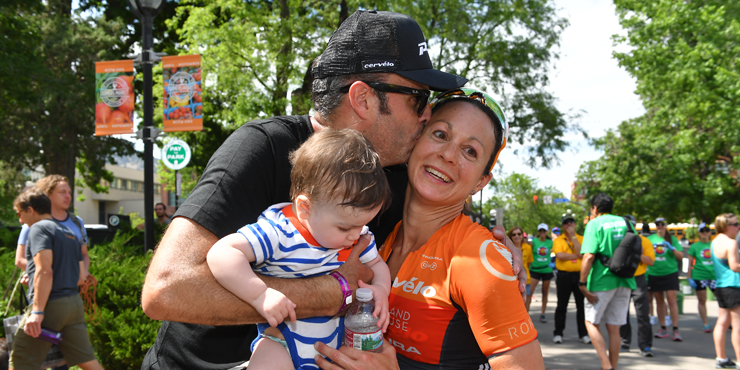 Rachel Joyce is a recovering attorney, wife, mom and amazing professional triathlete! In 2005 Rachel grew bored of following the black line and so decided to give triathlon a go: the natural next step for a 50m specialist in the pool!  An attorney at law by day, Rachel would switch her work suit for spandex during her lunch hours as well as pre and post work to fit in training where she could.  Sometimes this meant closing a deal at midnight and hopping on her bike for the ten mile journey home through the city. Whilst working as a lawyer Rachel achieved some promising age group results:  including winning her age group at the inaugural Ironman 70.3 World Championships in 2006 and placing top age grouper at Ironman 70.3 Monaco.  In 2008 Rachel took the plunge and resigned from her job at London city law firm, Taylor Wessing (www.taylorwessing.com) to give her best shot at being a professional triathlete.  Since then Rachel has enjoyed a steady rise in the sport.  She placed fifth in her first Ironman, Ironman Florida in 2008 in a time of 9:37 and less than a year later was crossing the line at the Ironman World Championships in 6th place (her first time racing on the Big Island).  She now has six top ten finishes in Kona to her name (6th:2009, 5th:2010, 4th:2011, 2nd:2013, 3rd:2014, 2nd:2015), a world title and three Iron distance titles (Ironman Lanzarote 2011, Challenge Roth 2012, Ironman Texas 2013 and Ironman Cozumel 2013).  Her finish time in Challenge Roth (8:45:03) also puts her down as the fifth fastest woman over the Iron distance and is one of only 4 women to finish in sub-9hours at the Ironman World Championships (8:57:28).
London was "home" for  10 years but now Rachel has moved Stateside and lives year round in Boulder, Colorado.  She has been coached by Julie Dibens since the end of 2014.  Her ambition in the sport is to win Kona as well as tick off a few "bucket list" races she has on her list….Wildflower, Ironman Lake Placid, St Croix 70.3 and Escape from Alcatraz to name a few.
Outside triathlon Rachel is known to be up for a challenge and this has seen her race in 3 degree C waters in the European Cold Water Swimming Championships, where she took the 25 metres breaststroke title in 2004.  She also volunteered to be a "buddy swimmer" to a friend on her English Channel crossing.  This involved 6 hours of swimming in the 16 degree waters…no wetsuit. In fact, it's almost the law that she has to jump into any cold body of water that she comes across including Loch Ness, Loch Tay, the chilly waters of San Francisco Bay and the Irish Sea.  When not biking, running and swimming Rachel can usually be found sniffing out new coffee joints, with her nose in a book, baking up a storm in the kitchen or sleeping.  She also writes occasionally for Triathlete and has a monthly column in Triathlete Europe.
Follow Rachel on Social:
Twitter: https://twitter.com/RJoyce09 
Instagram: https://instagram.com/rachelsjoyce 
====================== 
Request to Join the FREE Meredith Atwood Community & Coaching
https://meredith-atwood-coaching.mn.co/
====================== 
Buy Meredith's Books:
The Year of No Nonsense
https://amzn.to/3su5qWp
Triathlon for the Every Woman:
https://amzn.to/3nOkjiH
=======================  
Follow Meredith Atwood & The Podcast on Social:
Web: http://www.swimbikemom.com
Instagram: http://instagram.com/swimbikemom  
======================= 
Want to Connect? 
Email: same24hourspodcast@gmail.com
======================= 
Credits:
Host & Production: Meredith Atwood
Intro: Carl Stover Music
Copyright 2017-2020, 2021 All Rights Reserved, Meredith Atwood, LLC