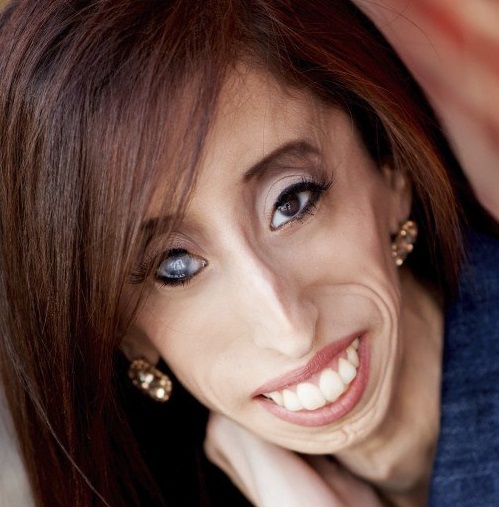 Lizzie Velasquez was cruelly dubbed "The Ugliest Woman in the World" on a viral YouTube video over ten years ago. She was born with an extremely rare congenital disease called Marfanoid–progeroid–lipodystrophy syndrome that, among other symptoms, prevents her from accumulating body fat and gaining weight.
Out of that horrific YouTube incident, rose a fire and a desire in Lizzie to use her talents to become successful, motivate others and show what it means to be kind. Her 2013 inspiring TedX talk, "How Do You Define Yourself" has over 4 million views. Her documentary, A Brave Heart, is a must-watch for everyone -especially those with tweens and teenagers. Her paperback book, Dare to Be Kind, is out now.  
Enjoy the episode with Lizzie. 
Get the Book:
Dare to Be Kind: How Extraordinary Compassion Can Change the World
Paperback now: https://www.amazon.com/Dare-Kind-Extraordinary-Compassion-Transform/dp/0316272469/ref=sr_1_1?ie=UTF8&qid=1520955800&sr=8-1&keywords=lizzie+velasquez 
The Documentary:
A Brave Heart: The Lizzie Velasquez Story
https://www.facebook.com/abraveheartfilm
Follow Lizzie
Website: https://www.lizzievelasquezofficial.com/ 
TedX Talk: https://www.youtube.com/watch?v=QzPbY9ufnQY 
Facebook: https://www.facebook.com/LizzieVelasquez/ 
Instagram: https://www.instagram.com/littlelizziev 
YouTube: https://www.youtube.com/user/lizzitachickita 
The Podcast on Social:

Twitter - http://twitter.com/thesame24hours 
Instagram - http://instagram.com/same24hourspodcast 
Web: www.Same24HoursPodcast.com

Mailing List: https://form.jotform.us/70326661605150 
Want to be a Guest? Contact: same24hourspodcast@gmail.com
Twitter:  http://twitter.com/swimbikemom
Instagram: http://instagram.com/swimbikemom
Web: http://www.meredithatwood.com
Facebook: http://www.facebook.com/swimbikemom 
Join the Year of No Nonsense: http://www.yearofnononsense.com
Grateful Sobriety:  http://www.gratefulsobriety.com 
Virtual Tri Club: http://www.besttriclubever.com
Sign up for Podcast Updates: 

https://form.jotform.us/70326661605150 
Music: Carl Stover Music
Host & Current Production: Meredith Atwood
Copyright 2018, Meredith Atwood, LLC