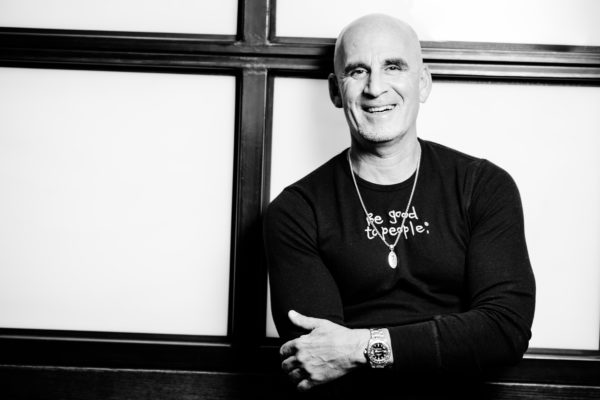 I love "No Let Up!"  This episode does not lack energy--nor does any place or room with Ted Rubin in it!
Ted Rubin is a leading Social Marketing Strategist, Keynote Speaker, Acting CMO of Brand Innovators, and Co-Founder of the recently launched Prevailing Path. In March 2009 he started using and evangelizing the term ROR, Return on Relationship™, hashtag #RonR…. a concept he believes is the cornerstone for building an engaged multi-million member database and community, many of whom are vocal advocates for the brand, like the one he built for e.l.f. Cosmetics as the Chief Marketing Officer between 2008 and 2010, the one he built for OpenSky where Ted was Chief Social Marketing Officer until the end of April 2011, and for Collective Bias (whose Advisory Board he joined in January 2011) where Ted became Chief Social Marketing Officer, and a partner, May 1st 2011… a company he worked closely with since it was founded by John Andrews who Ted met through the blogging community when he was leading Emerging Media at Walmart. Ted left his position as Chief Social Marketing Officer of Collective Bias on August 31, 2013. He remained a principal shareholder until the November 2016 acquisition by Inmar. In the words of Collective Bias Founder John Andrews… "Ted, you were the vision, heartbeat and soul of Collective Bias, thank you for building a great company. From innovations like cb.Socially to the amazing relationships you built with the blogger community, clients and employees, you drove the epic growth. You will be missed!"
With e.l.f. Cosmetics from 2008-2010, OpenSky from 2010-2011 and Collective Bias, Ted has become known for his active use of Twitter where he has in excess of 100,000,000 followers throughout his network, and grew 100,000+ followers for e.l.f. Twitter handles in 2009, over 200,000 for OpenSky in 2010, and well in excess of 2MM for Collective Bias and growing every day… all with deep engagement and interaction.
Many people in the social media world know Ted for his enthusiastic, energetic and undeniably personal connection to people. Ted is the most followed CMO on Twitter according to Social Media Marketing Magazine; one of the most interesting CMOs on Twitter according to Say Media, #13 on Forbes Top 50 Social Media Power Influencers, and number #2 on the Leadtail list of Top 25 People Most Mentioned by digital marketers. ROR is the basis of his philosophy… It's All About Relationships! Return on Relationship, ROR, #RonR, is the basis of his philosophy… It's All About Relationships!
Ted's book, Return on Relationship, was released January 2013, How To Look People in the Eye Digitally was released January 2015 and The Age of Influence… Selling to the Digitally Connected Customer was just released.
At e.l.f., Ted's responsibilities included communicating with and building e.l.f.'s client base (membership increased from 600k to in excess of 2.4MM during his tenure), leveraging brand equity through strategic marketing programs (with many major brands and publishers), and creating/developing/managing a major thrust into social media initiatives and partnerships and building the most highly respected social media presence in the cosmetics industry. In addition, the merging of traditional PR and the ability of social media to create/spread PR opportunities was leveraged to full effect under his tenure… a first for many companies and something which many are yet to understand.
Ted believes the key to continued success for any brand/retailer/etailer is identifying with the customer. Ted is quick to point out "listening is finally getting the respect it deserves through Social Media… listen and adjust your message to make it relevant to your consumer. Brand loyalty declines due to lack of relevance… a direct result of not listening." "Number one is always try to understand who your customer is and pay attention."
Your Brand/Business is what you do; your Reputation is what people Remember and Share.
Ted has a deep online background beginning in 1997 working with best selling author, entrepreneur and agent of change Seth Godin at Yoyodyne, which was acquired in Q4 1998 by Yahoo!
Ted served as a Social Marketing and Engagement Advisor to Big Fuel Communications until they were acquired in March 2011 by Publicis Groupe, and is on the Advisory Boards of Aptaris, Brand Innovators, Crowdsourcing Week, Dynamic Signal, GoodXChange, OpenSky, and SheSpeaks.
A native New Yorker, Ted holds a Bachelor of Science in Business and Economics from Cornell University. He is divorced, has two daughters in college, and lives in Pompano Beach, FL.
Follow Ted on Social:
Facebook: https://www.facebook.com/tedrubin 
Twitter: http://twitter.com/@tedrubin 
Insta: http://instagram.com/tedrubin 
Pinterest: http://pinterest.com/tedrubin
You Tube: http://www.youtube.com/user/tedrubinusa
Linked In: https://www.linkedin.com/in/tedrubin  
====================== 
Request to Join the FREE Meredith Atwood Community & Coaching
https://meredith-atwood-coaching.mn.co/
====================== 
Buy Meredith's Books:
The Year of No Nonsense
https://amzn.to/3su5qWp
Triathlon for the Every Woman:
https://amzn.to/3nOkjiH
=======================  
Follow Meredith Atwood & The Podcast on Social:
Web: http://www.swimbikemom.com
Instagram: http://instagram.com/swimbikemom  
======================= 
Want to Connect? 
Email: same24hourspodcast@gmail.com
======================= 
Credits:
Host & Production: Meredith Atwood
Intro: Carl Stover Music
Copyright 2017-2020, 2021 All Rights Reserved, Meredith Atwood, LLC