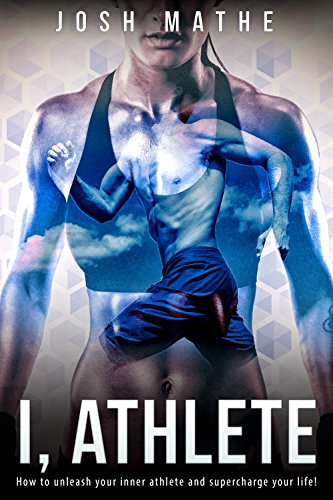 You are an athlete. Yes, YOU.  In 2012, I published a book with the subtitle "You can be a Triathlete. Yes, You."  And when I talked with Josh Mathe, I realized that he is cut from the same cloth in his beliefs.  
His new book, "I, Athlete" talks about awakening that ATHLETE inside of all of us - whether to acheive massive goals, or to just be the best version of ourselves. I really enjoyed this chat with Josh Mathe. Get inspired with his outlook, upbeat attitude and sage wisdom on all the things---yes, even medititation.
More on Josh
Josh Mathe is passionate about squeezing every last drop from life, and helping others do the same.  He the best-selling and award-winning author of In the Footsteps of Greatness and I, Athlete, as well as a speaker, fitness expert, nutritionist, ultra endurance athlete, and life adventurer.  Josh is the owner of One10 Performance & Nutrition, and when not in the office he spends his days running, biking, swimming, backpacking, or lifting heavy things.  Josh holds a Master's of Science in Human Nutrition, and is a certified sports nutritionist (CISSN), Performance Enhancement Specialist (PES), and endurance coach.  He lives in Sacramento, CA with his wife and three crazy animals. 
For more information or to contact Josh directly, please visit www.joshmathe.com
====================== 
Request to Join the FREE Meredith Atwood Community & Coaching
https://meredith-atwood-coaching.mn.co/
====================== 
Buy Meredith's Books:
The Year of No Nonsense
https://amzn.to/3su5qWp
Triathlon for the Every Woman:
https://amzn.to/3nOkjiH
=======================  
Follow Meredith Atwood & The Podcast on Social:
Web: http://www.swimbikemom.com
Instagram: http://instagram.com/swimbikemom  
======================= 
Want to Connect? 
Email: same24hourspodcast@gmail.com
======================= 
Credits:
Host & Production: Meredith Atwood
Intro: Carl Stover Music
Copyright 2017-2020, 2021 All Rights Reserved, Meredith Atwood, LLC