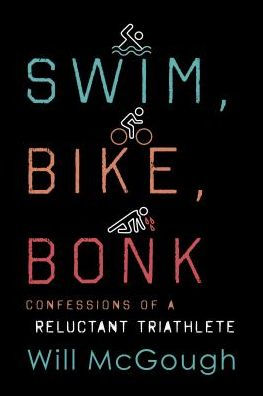 Swim Bike Bonk.  What happens when you tackle an IRONMAN in a really (really) short amount of time? 
Let's find out!
Will McGough writes, "I have been a full-time travel writer since 2010, a nomad-at-large and travel columnist, penning profiles, features, and dispatches from afar. My "wake and wander" travel philosophy embraces a curiosity about the way people live their lives in different parts of the world. I enjoy the idea of waking up every day to new opportunities, new landscapes, and the new feelings that the former inevitably evoke. I enjoy being outside. I have written stories for major travel publications around the globe, including Forbes Travel Guide, Conde Nast, Outside Magazine, Men's Journal, the Travel Channel, AFAR, Backpacker Magazine, Travel Pulse, the Brewer's Association, and many others. I am a graduate of Virginia Tech and [my new book is] Swim, Bike, Bonk."
Get the Book
Swim Bike Bonk : Confessions of a Reluctant Triathlete
Connect with Will
Instagram: @Wakeandwanderhawaii
Website: wakeandwander.com 
====================== 
Request to Join the FREE Meredith Atwood Community & Coaching
https://meredith-atwood-coaching.mn.co/
====================== 
Buy Meredith's Books:
The Year of No Nonsense
https://amzn.to/3su5qWp
Triathlon for the Every Woman:
https://amzn.to/3nOkjiH
=======================  
Follow Meredith Atwood & The Podcast on Social:
Web: http://www.swimbikemom.com
Instagram: http://instagram.com/swimbikemom  
======================= 
Want to Connect? 
Email: same24hourspodcast@gmail.com
======================= 
Credits:
Host & Production: Meredith Atwood
Copyright 2017-2020, 2021 All Rights Reserved, Meredith Atwood, LLC