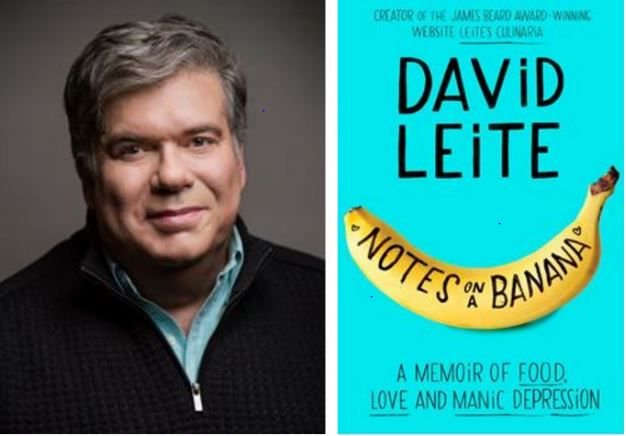 Food. Love. Manic Depression. This interview warmed my heart AND gave me some serious things to think about in my own "rollercoaster" world. A big thanks to David Leite for amazing work with "Notes on a Banana," and for his kindness, compassion and light in this world.
About David and "Notes on a Banana"
In one of spring's most poignant, astonishingly courageous, and unapologetically hilarious titles, three- time James Beard Award-winner David Leite brings a dash of Anthony Bourdain, Augusten Burroughs, and Kay Redfield Jamison to his memoir, NOTES ON A BANANA: A Memoir of Food, Love, and Manic Depression (Dey Street; April 11, 2017; ISBN: 9780062414373).  
In a true tale that dazzles, touches the heart, and inspires, three-time James Beard Award winner David Leite lays it all on the table.
Born into a devoutly Catholic, food-crazed family of Azorean immigrants in 1960s Fall River, Massachusetts, David had a childhood that was the stuff of sitcoms. But what no one knew was that this smart-ass, determined dreamer with a vivid imagination also struggled with the frightening mood swings of bipolar disorder. To cope, "Banana," as his mother endearingly called him, found relief and comfort in food, watching reruns of Julia Child, and, later as an adult, cooking for others. It was only in his midthirties, after years of desperate searching, did he finally uncover the truth about himself, receive proper medical treatment, and begin healing.
Throughout the narrative, David takes the reader along on the exhilarating highs and shattering lows of his life, with his trademark sense of humor: We watch as he slams the door on his Portuguese heritage in favor of blond-haired, blue-eyed WASPdom; pursues stardom with a near-pathological relentlessness; realizes he's gay and attempts to "turn straight" through Aesthetic Realism, a cult in downtown Manhattan; battles against dark and bitter moods; delights in his twenty-plus year relationship with Alan (known to millions of David's online readers as "The One"); and shares the people, dishes, and events that shaped him.
NOTES ON A BANANA is at once a tender look at growing up, a candid take on the power of selfacceptance, and an unflinching tale of the hell of mental illness. David's story is brutally honest and necessary, creating a sense of universality and enduring hope that today's readers need more than ever.
David Leite has tackled everything from chocolate chip cookies to Welsh cakes, from the foods of Portugal to the tribulations of being a super taster—for print, radio, and television. In 1999, he founded the website Leite's Culinaria, and in 2006 he had the distinction of being the first winner ever of a James Beard Award for a website, a feat he repeated in 2007. The following year, he won his third James Beard Award for his article on fried clams for the New York Times. His first book, THE NEW PORTUGUESE TABLE: Exciting Flavors from Europe's Western Coast, explored the food of his heritage and won the 2010 IACP First Book/Julia Child Award. David is also a regular correspondent and guest host on NPR's "The Splendid Table." He splits his time between Connecticut and New York, but will travel anywhere for a good meal. 
David on Social

Web: http://leitesculinaria.com/
Twitter: http://twitter.com/davidleite
Facebook: https://www.facebook.com/davidjosephleite/ 
====================== 
Request to Join the FREE Meredith Atwood Community & Coaching
https://meredith-atwood-coaching.mn.co/
====================== 
Buy Meredith's Books:
The Year of No Nonsense
https://amzn.to/3su5qWp
Triathlon for the Every Woman:
https://amzn.to/3nOkjiH
=======================  
Follow Meredith Atwood & The Podcast on Social:
Web: http://www.swimbikemom.com
Instagram: http://instagram.com/swimbikemom  
======================= 
Want to Connect? 
Email: same24hourspodcast@gmail.com
======================= 
Credits:
Host & Production: Meredith Atwood
Intro: Carl Stover Music
Copyright 2017-2020, 2021 All Rights Reserved, Meredith Atwood, LLC