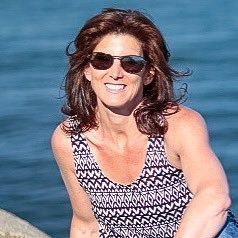 Joyce Shulman, founder and CEO of Macaroni Kid and 99 Walks, reaches millions of moms each month with hyper-local and national e-newsletters and websites, social media content, video and her Weekly Walk podcast. Having created a one-of-a-kind digital
platform, she connects families to the wonders of their own communities and inspires women to chase their dreams and crush their goals.
Macaroni Kid is the largest source of family events and activities in the Country serving more than 5,000 communities in 47 states and reaching more than 3,000,000 families each month. She calls calls Macaroni Kid's mission E2: Empowering Moms and Enriching
Communities. Her most recent endeavor, 99 Walks, is on a mission to combat loneliness and improve fitness through the simple act of encouraging moms to walk together. Her mission?
Nothing short of getting a million moms moving. Throughout her two decades as an entrepreneur, Joyce has guided SAHMs, school teachers and even MBA's to success. Joyce shares how moms need to "take care of mama bear" and avoid the "martyr mom syndrome". Her experience in business and leading mompreneurs makes her a coveted speaker at leading mom conferences where she speaks about beating burnout, fueling creativity, goal crushing and more.
Joyce received her Bachelors in Business Management from the University of Maryland and her Juris Doctor, Cum Laude, from St. John's University School of Law. After law school, she spent more than a dozen years as a New York City lawyer where her practice focused on complex commercial litigation.
A self-confessed idea junkie, in 1998, Joyce abandoned law firm life to liberate her entrepreneurial spirit and focus on the things that are most important to her: family, community and empowering women to chase their dreams.
Follow Joyce, Macaroni Kid, 99 Walks
99 Walks: https://www.99walks.fit/
Macaroni Kid: https://national.macaronikid.com/
Joyce on Linked In: https://www.linkedin.com/in/joyceshulman
Joyce on Twitter: https://twitter.com/MacKidMamaBear
Follow Meredith & the Podcast on Social:
Twitter:  http://twitter.com/swimbikemom  / https://twitter.com/thesame24hours 
Instagram: http://instagram.com/swimbikemom / https://instagram.com/same24hourspodcast.com 
Web: http://www.meredithatwood.com
Facebook: http://www.facebook.com/swimbikemom 
Sign up for Podcast Updates: 

https://form.jotform.us/70326661605150 
Music: Carl Stover Music
Host & Current Production: Meredith Atwood
Copyright 2019, Meredith Atwood, LLC