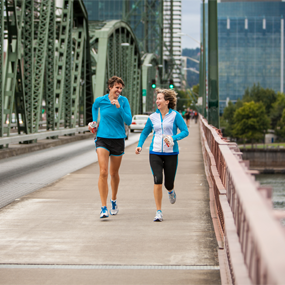 The Mother Runners are here! Founders, mother runners and inspiration behind "Another Mother Runner" - the virtual aid station for all runners--near and far, moms and not, new and "old," and inspiration abounds. Authors, social media entrepreneurs, podcasters and more. Sarah Bowen Shea and Dimity McDowell - so much fun! Enjoy the show!
Books:
Tales from Another Mother Runner, Run Like a Mother (2010) and Train Like a Mother (2012),
"For a woman, being a mom and a runner aren't always complementary identities. In fact, when you add a career, partner, and possibly even a social life to the mix, finding time for all of it can be as challenging as tiptoeing across your child's room in the middle of the night without stepping on a Lego."
Follow Dimity, Sarah and Another Mother Runner
Podcast:  https://www.acast.com/anothermotherrunner 
Website: https://anothermotherrunner.com/ 
Twitter: https://twitter.com/TheMotherRunner 
Facebook: https://www.facebook.com/AnotherMotherRunner 
Instagram: https://www.instagram.com/themotherrunner/ 
====================== 
Request to Join the FREE Meredith Atwood Community & Coaching
https://meredith-atwood-coaching.mn.co/
====================== 
Buy Meredith's Books:
The Year of No Nonsense
https://amzn.to/3su5qWp
Triathlon for the Every Woman:
https://amzn.to/3nOkjiH
=======================  
Follow Meredith Atwood & The Podcast on Social:
Web: http://www.swimbikemom.com
Instagram: http://instagram.com/swimbikemom  
======================= 
Want to Connect? 
Email: same24hourspodcast@gmail.com
======================= 
Credits:
Host & Production: Meredith Atwood
Intro: Carl Stover Music
Copyright 2017-2020, 2021 All Rights Reserved, Meredith Atwood, LLC