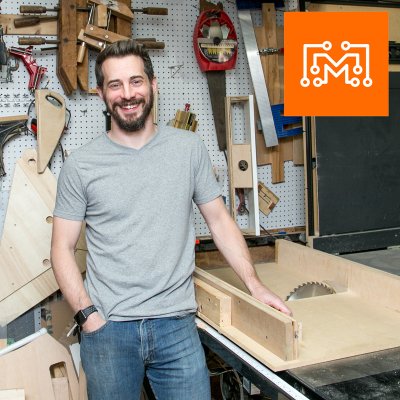 Bob Clagett likes to makes stuff, AND help others find their inner craftsperson--through an amazing YouTube channel with well over a million subscribers: I Like to Make Stuff. Whether it's music, websites,  software,  furniture,  vintage scooters or motorcycles—you name it--he likes to make it.
He is the father of four, husband of one and loves his life completely. He recently left the software industry to make stuff for a living and started I Like To Make Stuff.  I Like To Make Stuff is a place to chronicle the work and interests of Bob Clagett with the aim of providing inspiration to the DIY and maker community.
The YouTube Channel:
http://www.youtube.com/iliketomakestuffcom 
Some of Meredith's Favorite Episodes:
Secret Door Bookcase: https://www.youtube.com/watch?v=V3NGBo2M1Ps
Indoor Climbing Wall: https://www.youtube.com/watch?v=Cy9JX0ZfnWE
Office Rennovation: https://www.youtube.com/watch?v=9H9VXVYd3dA 
Double Bunk Beds: https://www.youtube.com/watch?v=4UOJOm_EcDE&t=50s 
The Book: Making Time
"I wrote a book about my journey to becoming a full time content creator, and some of the things I learned in the first two years. It's not a how to book, but instead stories and experiences that I didn't expect and never dreamed of."
Amazon: https://www.amazon.com/dp/1973589117/ref=as_li_ss_tl?ie=UTF8&linkCode=sl1&tag=ilik-20&linkId=c959a2d6d5a3118c6e6408410dbfa415
More formats: https://www.iliketomakestuff.com/makingtime/ 
Follow ILTMS on Social:
Website: https://www.iliketomakestuff.com/
YouTube:  http://www.youtube.com/iliketomakestuffcom 
Instagram: https://instagram.com/iliketomakestuff  
Facebook: https://www.facebook.com/iltms 
Twitter: https://twitter.com/iliketomakestuf 
Pinterest: http://pinterest.com/iliketomakestuf/ 
Follow Meredith on Social:
Twitter:  http://twitter.com/swimbikemom
Instagram: http://instagram.com/swimbikemom
Web: http://www.meredithatwood.com
Facebook: http://www.facebook.com/swimbikemom 
Sign up for Podcast Updates: 

https://form.jotform.us/70326661605150 
Music: Carl Stover Music
Host & Current Production: Meredith Atwood
Copyright 2018, Meredith Atwood, LLC